The weather has been downright uncooperative around here lately. I've been looking for some of those bluebird spring days with comfortable temps in the 60s and sunshine. We've had some during the week while I've been stuck behind a desk staring at spreadsheets and email, but when the weekend rolls around things turn nasty. To a weekend warrior such as myself, this is deeply troubling. In an effort to cheat fate, my good buddy Cronin and I decided to take a Friday off and head out to the Park to chase some brookies. Things looked promising up until last Wednesday when the forecast changed and showed that rain was on the way. Since we already had the day off, we decided to stick it out and go anyway.
We started early and the weather seemed promising at first. We even saw some blue sky on the drive out to the mountains- but it wouldn't last. By the time we got down into the creek, the skies opened up and didn't close for the rest of the day. Fishing in the rain isn't my favorite thing to do, but it beats sitting in the office, and the fishing turned out to be pretty darn good, even in the downpour. I didn't take many pictures because of the weather but we each caught a couple dozen chunky chars, mostly on dries.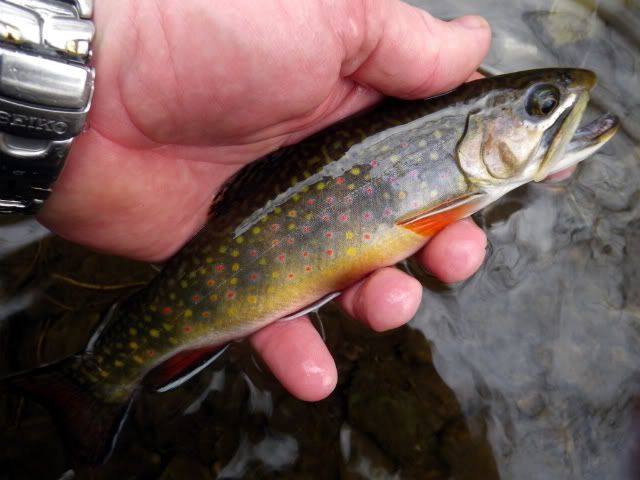 My man Cronin loves showing off his casting skills so I thought I would include this picture even though it turned out slightly blurry. You can see that he's got a sweet double haul and I'm sure it came in handy for the 10' cast he needed at this little pool. I also like his strategy of wearing the brightest orange jacket he could find - the fish love that.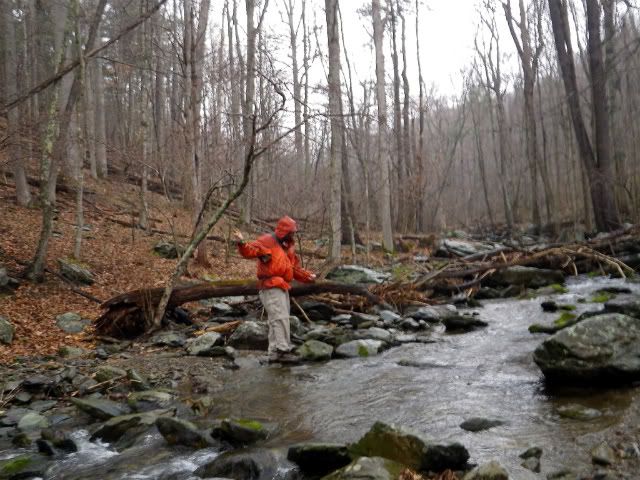 All joking aside, it was good to get out with my old buddy because we don't get to fish together very often. Maybe one of these days I can show him what the Park is like when the weather is nice, the bugs are hatching, and the fish are stupid.