With the impending weather disaster looming over the east coast, I figgered this weekend was going to be a wash out. Only one thing to do - take Friday off and go fishing. I woke up earlier than I thought I was capable and made the 2 hour drive out to the valley. The creek is purdy at dawn.
I made the effort in hopes of finding browns rising to tricos and although the bugs were swarming in abundance, the fish were uninterested. No worries though because terrestrials still proved effective a bit later in the day. Action was pretty consistent with little browns in this size range.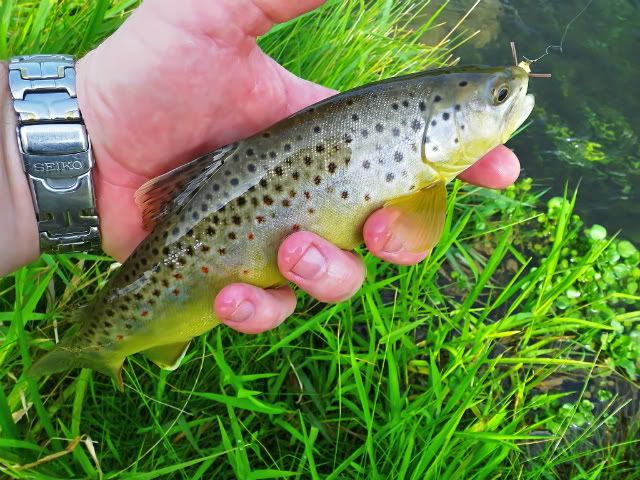 I don't know how many times I've pointed the video camera at a likely looking spot in the hopes of capturing a take, but it rarely works. Fish usually get lockjaw when video is rolling, but it worked today.
On a happy note, I spotted our big fish from a few weeks back again today. He relocated about 50 yards upstream to a new hole and I never would have seen him if he didn't rise for, and refuse, a real hopper. If the picky SOB refuses the real thing there didn't seem to be much hope for my foam imitation, and sure enough, he scoffed at me. I tried him with a beetle and then a streamer before admitting defeat and calling it a day.
Now on to storm watching for the rest of the weekend.