We've had an extremely rainy April here in the Old Dominion and it has put a bit of a damper on the fishing. Of course this means that things should be better, for longer into the summer, but I'm more of a here and now kind of person. Is it too much to ask for the rain to come only during the week, and be spread out enough to not blow out the streams, while still keeping the aquifers charged up? I don't think so.
Last Saturday, the western part of the state received over 5 inches and every little creek was a swollen, angry mess. A lot of that extra water eventually made it's way into the James River and then on down to Richmond. The river crested this past Monday at almost 70,000 cubic feet per second, which is just slightly above the average for this time of year of about 7,000 cfs.
Mother nature gave us a break over the next several days and the streams dropped back down to fishable, but still full, levels for the weekend. Since Marty and I had been out to the mountains on Saturday, and my legs needed a break, I decided to stay in town and try for some shad on Easter Sunday.
One family was out for a little Easter stroll as I walked down to my spot.
When the shad are here in good numbers, the fishing can be almost perverted, with hookups on just about every cast. Today wasn't quite like that, but not bad either. After trying a few different flies, the fish finally let me know that pink and white was the color they wanted, and I started to hook up on a fairly regular basis.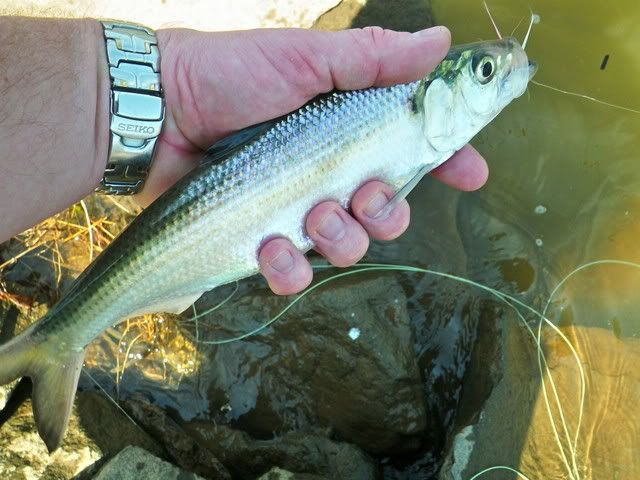 For their size, these fish are some of the best fighters I've ever caught on a fly rod. They slam the fly with authority and usually go airborne 2 or 3 times. They have an amazing ability to spit the hook if you're not careful, and I probably lost as many fish as I landed.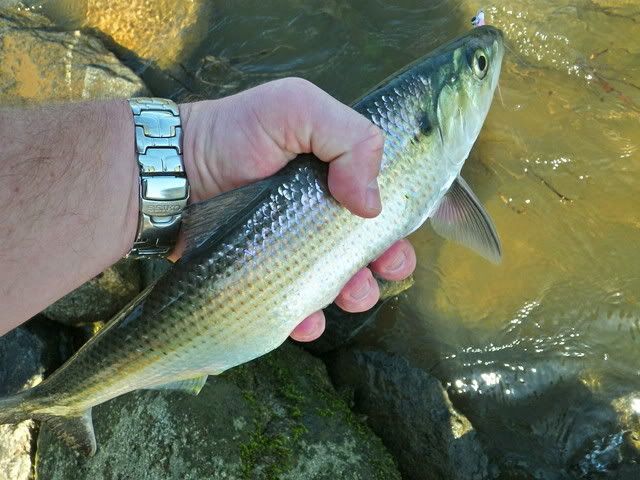 Midway through the morning I hooked something that was substantially larger than anything I'd tangled with up to that point. I fought the fish for several minutes and then the hook pulled free. I never even got to see the fish but I want to think that it was probably a striped bass - a fish that follows the shad up the river and one that I've never tackled with a fly rod. Upon relaying the story to Marty he promptly informed me that it was probably an "ass-hooked" catfish. Thanks buddy.
I went back to catching shad until I noticed that my arms were turning a nice shade of purple. It seems I had lathered up my neck, face and ears with sunscreen but neglected the arms. It was time to call it a day.